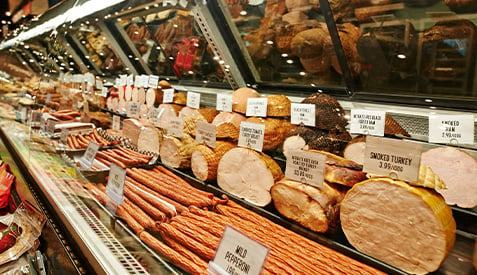 PROVIDENCE, R.I. (WLNE) — The Rhode Island Department of Health announced a formal advisory Friday to anyone who is at a higher risk of severe illness from Listeria.
Any person over the age of 65, pregnant, or immunocompromised should not eat cheese or meat from the deli.
Deli meats and cheeses are only safe to eat if they are reheated to 165°F or steaming hot, the RIDOH said in a release.
The Center for Disease Control and Prevention is actively investigating an outbreak of Listeria.
So far, there have been 16 reported illnesses, 13, hospitalizations, and one death.
Although no cases have been reported in Rhode Island, there were cases reported in Massachusetts and New York.
Severe illness can occur when the bacteria spreads past the gut to other parts of the body.
Symptoms can include fever, fatigue, muscle ache, headache, and stiff neck.
Although symptoms typically start within 2 weeks of eating contaminated food, it is possible for symptoms to show the same day or as late as 10 weeks.
Deli meats and cheeses are known sources of Listeria illness, the RIDOH said, because Listeria can easily spread to food from deli counters and equipment.
According to the RIDOH, Listeria is a difficult germ to remove. It can survive and grow at cold temperatures in the refrigerator.
Anyone who is at high risk for severe illness should:
Avoid meat or cheese from any deli counter, unless it is reheated to an internal temperature of 165°F or until steaming hot
Clean refrigerators, containers, and surfaces that may have touched deli meat or cheese
Call your healthcare provider right away if you have any symptoms of severe illness after eating meat or cheese from a deli