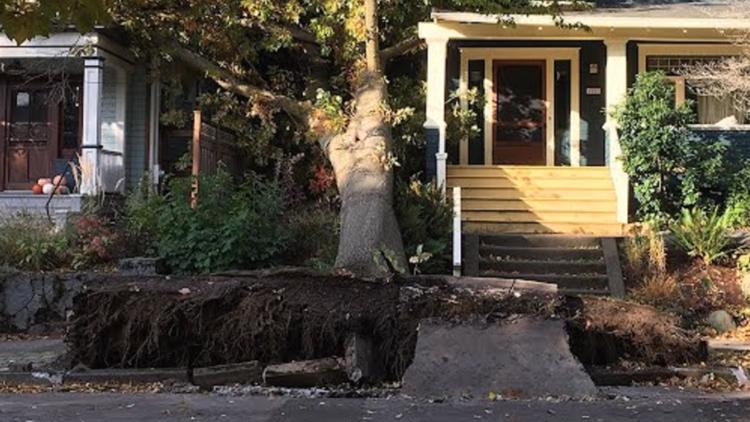 Thousands were without power in Portland Thursday morning. The National Weather Service issued a wind advisory for the city and a high wind warning in the gorge.
PORTLAND, Ore. — High winds are buffeting northwest Oregon Thursday, causing some downed trees and power outages in the Portland area, and far more intense wind is hammering the Columbia River Gorge.
The National Weather Service issued a high wind warning for the western gorge early Thursday morning, forecasting east winds at 25-35 mph with gusts up to 60 mph at the freeway level. Higher-elevation areas such as Crown Point will see wind speeds of 35-50 mph and gusts of 80-100 mph. 
The warning remains in effect through 7 a.m. Friday, and comes with an expectation of downed trees and power lines that will cause widespread power outages and make travel difficult, especially for high-profile vehicles.
The NWS also issued a wind advisory Thursday morning for the greater Portland area, warning of east winds at 15-30 mph with gusts of up to 50 mph. The strongest winds will be in Portland's West Hills and east of Interstate 205.
Wind gusts could blow around unsecured objects and bring down tree limbs, the NWS warned, potentially causing power outages. Portlanders were urged to be cautious while driving. The advisory is also in place through 7 a.m. Friday.
Power outages
Portland General Electric's outage map showed more than 7,800 customers impacted by power outages as of about 10 a.m. Thursday, with clusters of outages reported all over the Portland metro area. 
The biggest hotspots were the West Hills and the southeast portion of the metro area near Damascus, Boring and Sandy, with thousands of reported outages, but hundreds of outages were also reported across Northeast and Southeast Portland.
A few of the outage listings mentioned downed trees on power lines, but most said the cause was still under investigation.
On the north side of the river, Clark Public Utilities reported a couple clusters of outages near Camas and Washougal Thursday morning, affecting about 300 customers. The map also listed about 2,000 customers as "recently restored," although it didn't specify when they lost or regained power.
Valley air stagnation
Even as the northwest part of Oregon faces heavy winds, much of the rest of the Willamette Valley was under an air stagnation advisory Thursday, including the coast range and Cascade foothills. 
The period of stagnant air and minimal wind is expected to last through 10 p.m. Friday, the NWS said, and could lead to persistent poor air quality. Residents with respiratory illnesses were urged to be cautious, and state air quality agencies recommended no outdoor burning.