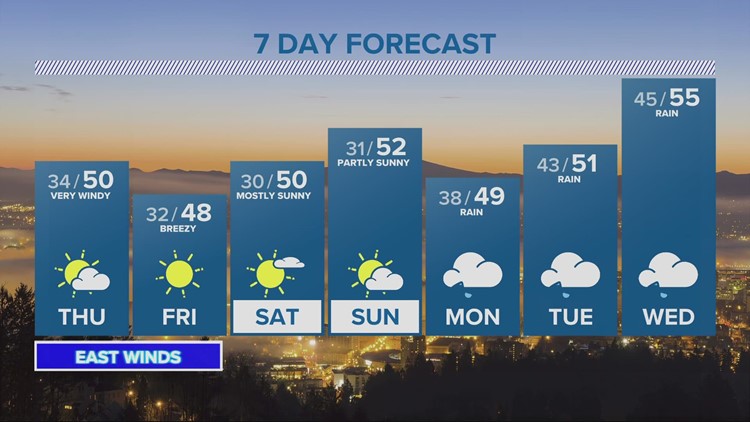 PORTLAND, Ore — East wind gusts will reach their highest values of the week Thursday.
A Wind Advisory for the Portland area and a High Wind Warning for the western Gorge continue until 7 am Friday morning. Gusts will reach 50 mph in the Portland area and may top 100 mph in the windiest spots in the western Gorge
Sunshine will rule for most of us, thought the southern Willamette Valley and areas of Central Oregon are stuck beneath a low cloud deck with fog and freezing fog- that may be very slow to burn off today.
The strong winds will ease a bit Friday, but the clear sky continues.
Morning lows with the in the 30s, except in the wind protected areas that will drop into the 20s again.
Highs will be in the upper 40s and low 50s.
The weekend will stay dry, clouds increase Sunday.
Rain returns Monday and will likely continue on & off  into Thanksgiving.
Have a great Thursday. Take good care of each other.
Chris McGinness
KGW Meteorologist