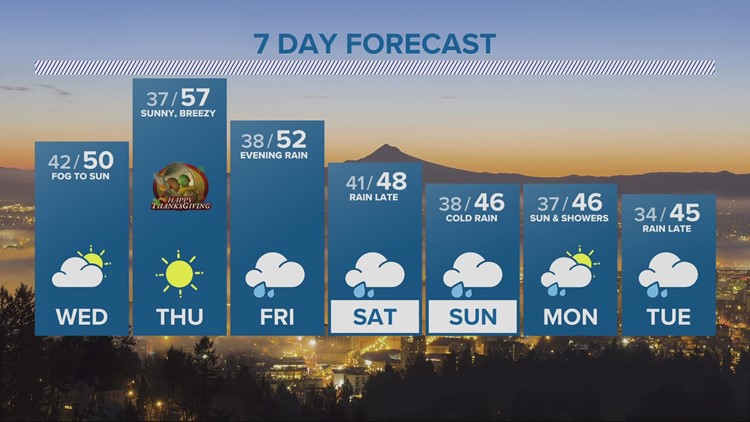 Showers have ended and dry weather returns through Thanksgiving Day.
Clouds over the area are breaking up now, which gives fog a better chance to form and become thick by morning. 
Fog and low clouds should break up in the Portland area by mid to late morning, and will be followed by sunshine.
Any leftover clouds clear off Wednesday night. East winds develop at the same time, serving up a mostly sunny and mild Thanksgiving Day, with highs in the upper 50s.
Friday begins with dry weather, but rain rolls in Friday evening. This is another fairly weak system with not much mountain snow.
But that changes Saturday night. A much stronger and colder system drops in from the north. Sunday looks wet and cold with snow in the passes for holiday travelers, including the Coast Range and the Siskiyous into California.
Rain continues Sunday, with showers and more mountain snow Monday.
Another cold storm, with snow levels down around 1,000 feet, arrives Wednesday.
Take good care of each other.
Matt Zaffino
KGW Chief Meteorologist