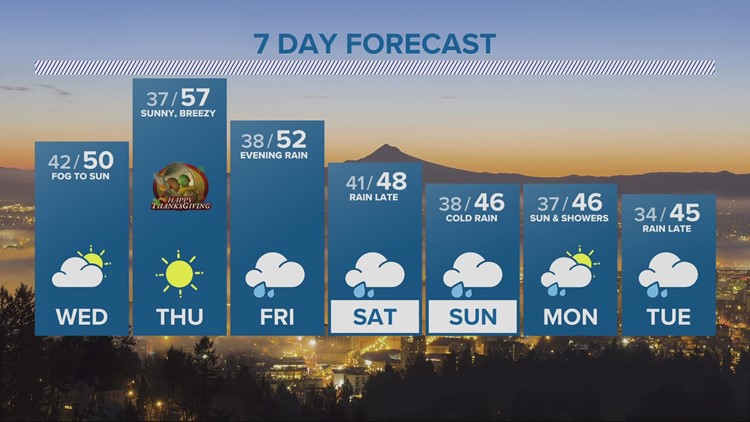 A Dense Fog Advisory this morning for much of the central and south Willamette Valley.  Areas around Portland are also reporting fog that may be slow to clear with today's light wind pattern.  Developing sunshine will warm highs to 50 degrees. 
Besides the morning fog, I see no weather related travel issues today and dry weather with sunshine is expected on Thanksgiving Day.  East winds pick up a bit tomorrow near the gorge 15-25 mph.  
Developing rain returns during the day Friday with snow levels generally above Cascade passes.  Total valley moisture will be less than .20 inches.  At this point much of Saturday will be dry.  
 A much stronger and colder system drops in from the north Saturday night into Sunday. Sunday will see likely rain across much of our region.  Snow levels will lower to 2,000 feet bringing heavy snow at times over the Cascades.  Sunday travelers over the mountains should be prepared for snow covered roadways.  Rain at times with snow levels down to 1,500′ or slightly lower on Monday and Tuesday morning.