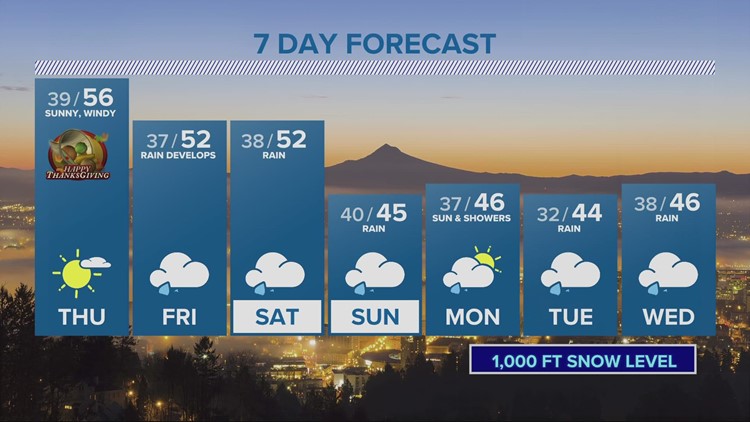 Valley fog is becoming thick and widespread now. A Dense Fog Advisory is in effect until noon Thursday.
But the east wind is also now strengthening, and that will limit fog in the Portland area and prevent it in and near the Gorge.
Holiday travelers should be ready for slow going south and north from Portland into the mid-morning hours Thursday.
The Portland area gets sunshine Thursday, with highs in the mid-50s.
Friday brings rain, but it won't be heavy and the snow in the Cascades should be light, with the snow level dropping to about 4,000 feet. The passes will see 1 to 3 inches of accumulating snow, but travel through the passes should be passable Friday and improve Saturday.
But a much stronger storm drops in Sunday. This will bring heavy Cascade snow, with the snow level dropping to 3,000 feet. That means snow in all the passes and possibly the Coast Range. The Cascades will see 8 to 14 inches of snow Sunday, making travel over the mountains hazardous.
Cold weather, valley rain and heavy mountain snow continue next week.    
Have a happy and safe Thanksgiving.
Take good care of each other.
Matt Zaffino
KGW Chief Meteorologist