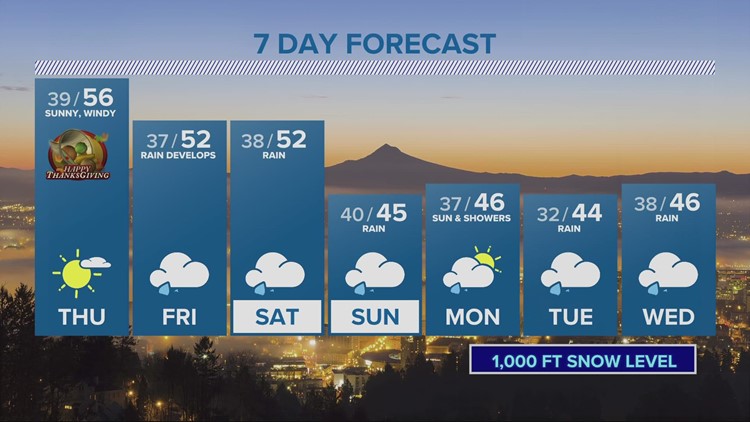 A Dense Fog Advisory is up for the central and south Willamette Valley through the noon hour.  East wind are expected to blow enough out of the gorge to bring morning clearing to the north valley, including Portland and Vancouver.  The sunshine will be enough to warm temps into the 50s today. East breezes near the gorge will generally be 10-25 mph. 
Areas south near Salem and to Eugene may get stuck under fog and low clouds for much of the day, holding high temps in the mid 40s with light winds.
Friday brings rain, but it won't be heavy and the snow in the Cascades should be light, with the snow level dropping to about 4,000 feet after much of the moisture has passed our region.  Total valley rainfall may near .25 inches. Rain over the I-5 corridor may be steady between 12 noon and 3:00 pm.  The evening hours should be mostly dry with a shower chance. 
A much stronger storm drops in Sunday. This will bring heavy Cascade snow, with the snow level dropping to 2,000 feet during the day, bringing snow to Cascade passes.  Portland and Salem will see rain much of the day.   
Chilly weather, valley rain and mountain snow for the Cascades continues much of  next week.    
Have a happy and safe Thanksgiving.