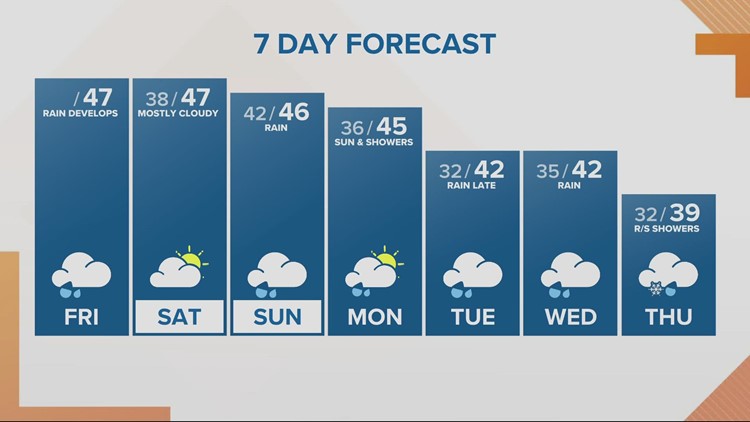 Areas of dense fog will burn off this morning, rain moves into the Willamette Valley this afternoon.
Here's a look at that timing with Futurecast:
We'll probably see a 2-3 hour window of steady moderate rain mid-afternoon in Portland, before rain sweeps off to the southeast this evening. Rainfall will probably be on the order of a quarter to a half inch in Portland.
Saturday will be mostly cloudy and dry, but rain returns Saturday night and Sunday. This is the system that drops the snow level down to 3,000 feet and will make the drive home very wintry for those going through the mountains. A Winter Storm Watch is in effect for the Cascades, late Saturday night thorugh Monday morning:
We've got sun and showers Monday, followed by a dry and cold Tuesday.
But the next storm, which arrives Tuesday night and Wednesday, brings even colder air.
Right now, it looks like the snow level will drop to about 500 feet, just above the valley floor. But it's close, so we will keep a close eye on it as we head through the weekend and the details come into better focus. An early look to next weekend shows a continuing chance of mixed rain and snow showers.
Have a great weekend, and take good care of each other.
Chris McGinness
KGW Meteorologist