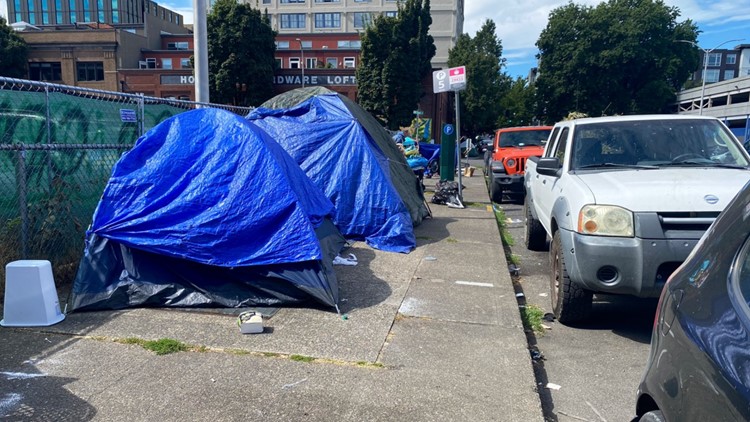 Hundreds of Portlanders testified both for and against the plan, but it eventually passed Nov. 3. Now the city council is looking at how to pay for it.
PORTLAND, Ore. — Portland City Council's plan to address homelessness in the Rose City is gaining headway, with commissioners discussing how they plan to pay for it during Thursday's city council meeting.
Over the past several weeks, Mayor Ted Wheeler presented a plan to try and end widespread unsanctioned homeless camping over an 18-month period. Hundreds of Portlanders testified both for and against the plan, but it eventually passed on Nov. 3 with the council voting in favor of all five resolutions. It passed unanimously with the exception of the camping ban, which passed 4-1 with a No vote from Commissioner Jo Ann Hardesty.
The plan includes banning unsanctioned camping over an 18-month period and building six homeless campuses, each holding up to 150 people at first. Residents of the mass camps will have access to food, sanitation and case managers, along with access to mental health and substance-abuse treatment. There will also be on-site security.
In order to pay for this, the city council is proposing several changes to their budget, including an allocation of more than $4 million as a down payment for building the large camping sites, $750,000 for private security in the surrounding neighborhoods and more than $12 million to run the sites. They're also planning to spend more than $3 million building a 50-person navigation team whose purpose is to connect with people living on the streets.
The city is planning to use dollars from the American Rescue Plan as well as taking $8 million from the amount they ordinally give to the county's Joint Office of Homeless Services — about 20% of the money the city gives to JOHS each year. Instead, they want to use it to fund this plan.
On Wednesday, Governor-Elect Tina Kotek made a surprise appearance at city hall, pledging to work with the city to address this crisis.
"It is important for Portland to thrive, it's important for Portland to be successful and safe in a place where everyone can be successful," she said before council. "We have challenges here. We all know what those are but my hope is to have a strong working relationship with the leadership here in Portland so we can take on our housing and homelessness challenge our issues around mental health and addiction." She agreed to meet with Mayor Wheeler every two weeks to address homelessness and public safety. During her campaign, Kotek said she is in favor of most of the mayor's plan. 
Thursday's meeting was open for public testimony and 59 people signed up beforehand. As for where the large camps will be located, the mayor's office told KGW on Thursday that will be announced in the "near future."