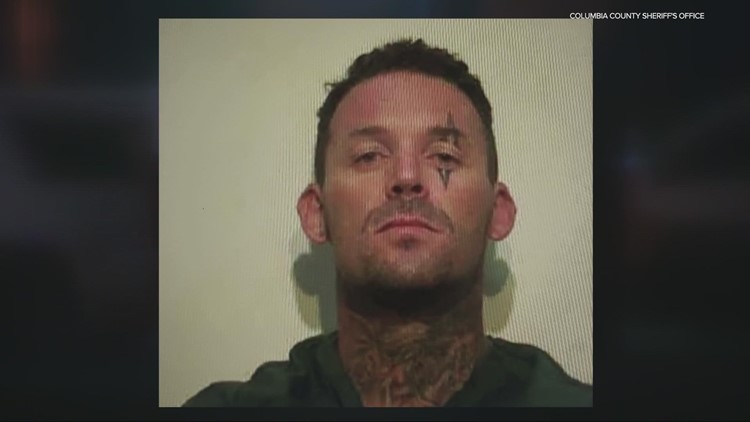 After a search Tuesday night failed to find Kevin Reynolds, 41, deputies set up another perimeter Wednesday near the school complex.
RAINIER, Ore. — Rainier School District announced it will close its schools Thursday, Nov. 17 after a nearly four hour lock-in on Wednesday as law enforcement continued the search for an "armed and dangerous" felon that they began looking for on Tuesday. 
All activities will also be cancelled. The search for the suspect is still ongoing.
Superintendent Dr. Joseph Hattrick said they "will continue to monitor the situation and work with our law enforcement to plan our next steps" in a letter to Rainier families, staff and students Wednesday evening. 
During a flurry of police activity in the Rainier area Tuesday afternoon, the sheriff's office revealed that multiple agencies were searching for 41-year-old Kevin James Reynolds, a wanted felon, around Heath Road and Old Rainier Road, just west of the city of Rainier and about two miles from schools.
According to law enforcement who spoke to KGW on scene, Reynolds had been hiding in the area and fired a gun at a passerby.
"If you see him, please call 911," CCSO said in a statement on Tuesday. "If you live in the area, please secure your home and stay inside."
Though search efforts continued for six hours, Reynolds was not located. According to the Rainier School District, the search included K9 units, drones and SWAT teams.
Rainier School District superintendent Dr. Joseph Hattrick said that their schools would normally let out around 1 p.m. on Wednesdays. They were notified by the Columbia County Sheriff's Office around 12:30 p.m. that they should keep the kids inside while deputies conducted a search near the schools.
Schools in the Rainier School District are on a single campus, so the lockdown applied to students at all levels.
Sheriff Brian Pixley told KGW that Reynolds had been seen in the area, and law enforcement agencies were again setting up a containment zone while using K9 units in an attempt to locate the suspect.
Dr. Hattrick said that the district will wait until they get an "all clear" from law enforcement before letting students leave school, and will begin by sending home students who take the bus. After that, parents can pick up students from the front door of their respective schools.
In a statement issued prior to the lockdown on Wednesday, Hattrick said that school administrators and law enforcement had been working together to ensure that there would be no threat to students.
"Our facility team has been working all morning to sweep the entire campus to ensure it is safe for students to return and law enforcement has advised that there is no reason to modify the school day," Hattrick said. "Today you can expect to see law enforcement and district staff patrolling campus all day.
"We understand that last night's events were unsettling but we have faith in our law enforcement.  This also serves as a reminder that we all must be continuously vigilant because while we know the name and face of last night's suspect, we must always be on the lookout for anything or anyone that could raise suspicion."
This is a developing story and will be updated with more details as they emerge.