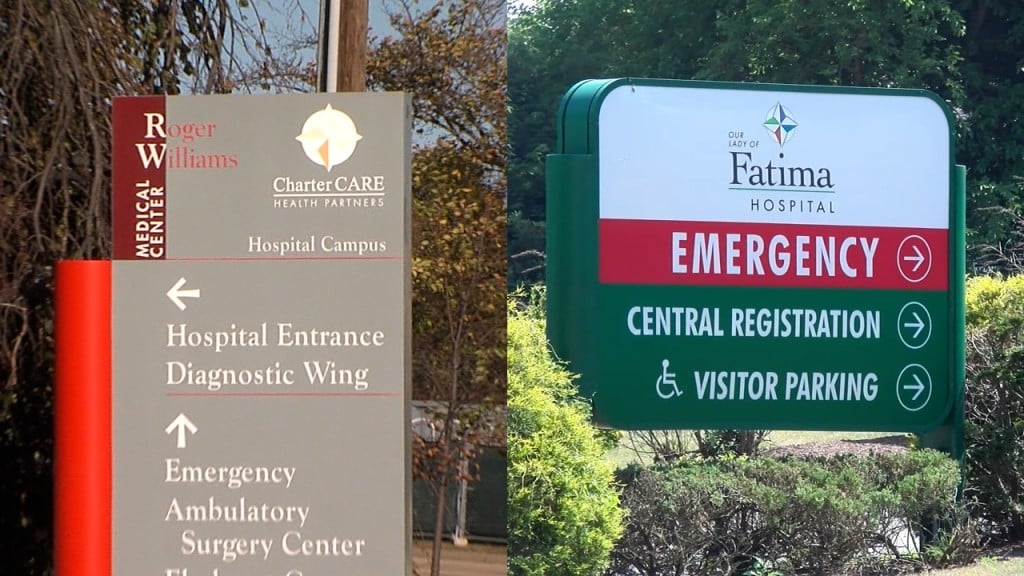 PROVIDENCE, R.I. (WLNE) — Roger Williams Medical Center in Providence and Our Lady of Fatima Hospital in North Providence are among several medical facilities that are involved in a tentative sale to a nonprofit corporation.
Currently, both hospitals are owned by Prospect Medical Holdings, Inc, a for-profit company.
CharterCARE said Tuesday that the Centurion Foundation, an Atlanta, Georgia-based nonprofit, signed an agreement to acquire the CharterCARE Health Partners system from Prospect.
The deal, according to a CharterCARE spokesperson, will have to be reviewed by the Rhode Island Department of Health and Rhode Island Attorney General's Office.
CharterCARE Health Partners employs more than 2,500 workers, overseeing eight facilities, including Roger Williams Medical Center and Fatima Hospital.
"Centurion of Rhode Island will maintain local leadership and will have a Board of Directors that includes local community leaders in the healthcare field," said the spokesman for CharterCARE.
In a statement to ABC 6 News Tuesday, Joseph Wendelken, a spokesman for the Department of Health, said it has "not yet received a formal application."
"However, like any potential health system transaction in Rhode Island, a proposed purchase of CharterCare would be subject to a diligent review from the Rhode Island Department of Health to ensure that all Rhode Islanders continue to have access to quality, affordable care," said Wendelken.
Brian Hodge, a spokesperson for the attorney general's office, said at this time, Attorney General Peter Nerohna has little information about the proposed transaction.
Hodge said the state's Hospital Conversions Act "requires that the parties file a formal application with this Office and the Department of Health detailing the proposed transaction."
The application and review process, said Hodge, will take months.
Last year, Prospect withdrew its transfer of ownership applications with the state over objections to financial conditions placed on the transaction by Neronha's office.
Prospect was seeking state approval to let private equity firm Leonard Green sell its majority stake in the company.
Neronha said he was prepared to approve the deal under certain financial conditions "to cover ongoing operating expenses and necessary capital investments" that would assure the continuity of health services and operations for at least five years.
The conditions included putting up to $150 million in escrow.
Prospect in a letter to Neronha called the conditions "unreasonable and unacceptable," and warned that if the ownership transfer was unsuccessful, the hospitals could close.