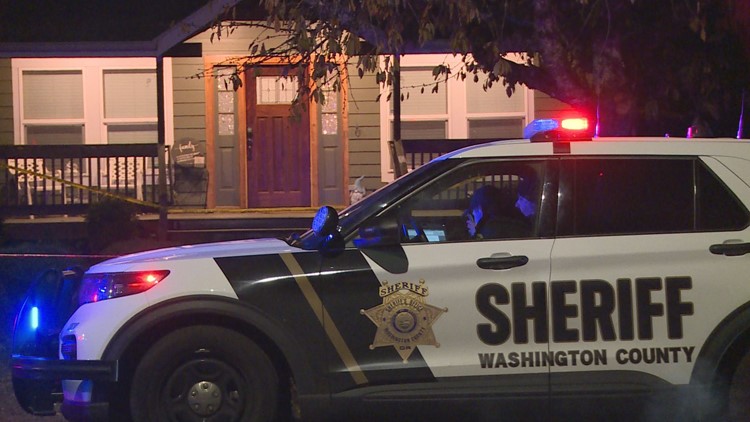 Deputies found two people dead outside a home, and the suspect with life-threatening injuries from a self-inflicted gunshot wound, according to sheriff's office.
WASHINGTON COUNTY, Oregon — Washington County investigators confirmed new details on a tragic murder-suicide this week that left three people dead. Court records revealed the suspect in this case was recently arrested on domestic abuse charge, including strangulation. 
Carlos Jimenez-Vargas, 46, shot and killed his wife, Gabriela Jimenez, 43, and her sister, Lenin Hernandez-Rosas, 38, during an argument before turning the gun on himself Wednesday night, deputies said.
When they arrived on scene, deputies found the women dead outside the home on Southwest Scholls Ferry Road, and Jimenez-Vargas suffering from an apparent self-inflicted gunshot wound. 
The sheriff's office later reported he died at the hospital. 
Court documents show the suspect was recently arrested and charged with felony assault and strangulation constituting domestic violence, involving two family members — one of whom was a victim in the murder-suicide.
Jimenez-Vargas was released pending trial, under the conditions he not contact the victims, and that he wear a GPS tracking device, according to court docs.
"We always stop and ask ourselves, like gosh, did we do enough? What could we have done, whether we knew them or not, always asking, you know, did we get enough information out? Did folks know where to go?" she said, "These leave lasting impacts on a community. They change a community. They leave trauma in a community."
Schutz explained the recent strangulation charge is especially troubling — in this case as it is in many other domestic violence cases — because it signals just how dangerous a suspect can be. 
"It's an immediate, giant red flag because there is very little that is more lethal and a more lethal indicator of future homicide than strangulation," she said.
"Strangulation is a very intimate act and what we know is that for folks that have experienced strangulation, 70% said that they thought that they were going to die, that they they moved in between life and death in those moments," Schutz said.
 "It's an incredible show of power and control. There is no more show of power and control than literally having somebody life in their hands, and so that makes a person that's willing to strangle so incredibly dangerous because they're willing to take someone else's life."
To find out more about the services available through the Family Justice Center, click here. 
For the National Domestic Violence Hotline, click here, or call 1-800-799-SAFE (7233).