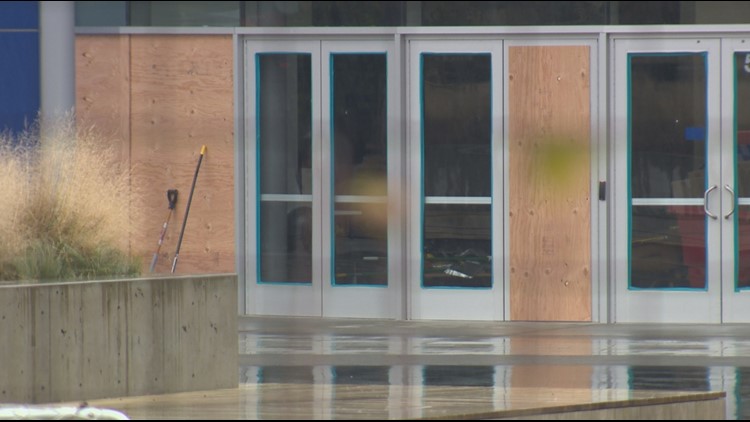 Nine people smashed a total of 50 windows and broke doors of buildings on the campus on North Greeley Avenue on Nov. 20, according to Portland police.
Nine people smashed windows and broke doors of buildings on the campus located on North Greeley Avenue around 1:48 a.m. on Nov. 20, according to the Portland Police Bureau (PPB). A total of 50 windows were smashed. Multiple doors and windows were boarded up by Tuesday.
The vandals also splattered blue paint around the campus, according to PPB. Police could not release information about the estimated cost of the damage.
Officers who responded to the scene and PPB's Air Support unit did not locate any suspects.
A post from Abolition Media, published on their website Nov. 21, claimed responsibility for the vandalism and said it was in retaliation for the 2022 FIFA World Cup in Qatar.
Photos: Adidas campus vandalized
The international soccer tournament kicked off on Nov. 20. Adidas is among multiple global companies partnering with FIFA on the event.
"The history of the World Cup is one of death and displacement. Every stadium stands upon the dead bodies of workers who built it," the post on Abolition Media claimed.
The author of the article went on to say, "We reject the logistics of global capitalism and the state, and the endless violence they create together."
FIFA's selection of Qatar to host the event has been controversial since it was announced more than a decade ago due to the Persian Gulf nation's dubious human rights record, a lack of pre-existing infrastructure and the deaths of migrant laborers. FIFA officials have also been accused of accepting bribes that influenced their decision to choose Qatar.
KGW reached out to Adidas for comment, but as of Tuesday afternoon, have not heard back yet.
This is a developing story and it may be updated as more information becomes available.